Ok so i've been asked by a few people to do a build thread so here it is. Happy reading

I remember seeing a green s14 series 2 cruisin around in my town waaay back in 2000, and ever since then i've always said once i get my shit together i'm going to get one. Well, my shit is together, and here is my beloved silvia's story.
For the record, this is my first turbo car so since buying it i've learnt alot. Didnt really have much to do with cars before this one, ive had a few but never really mucked around with them like i have with this one.
So back in 2010 around May whilst searchng on carsales for an s14, this little shiraz coloured rocketship jumped out at me... So i called up the owner and told him i want it, so i paid and he put it on a truck for me and about 2 weeks later my dad and I flew to townsville to drive it home (i didn't have a licence at the time so dad drove) this is it after i first got it registered with my plates slapped on it about 2 or 3 weeks after having it at home.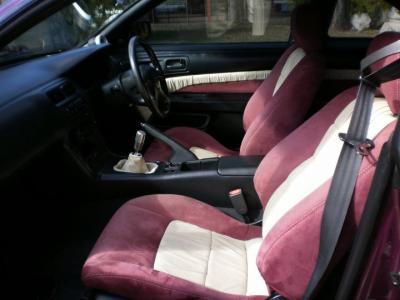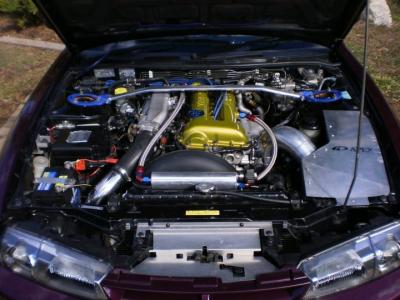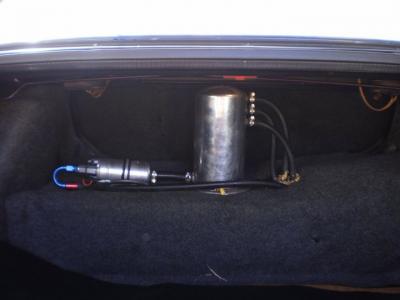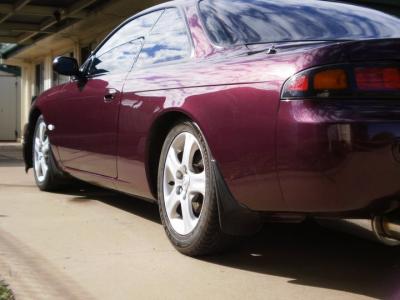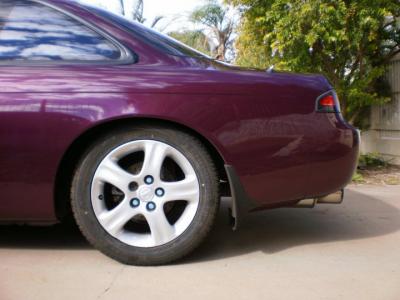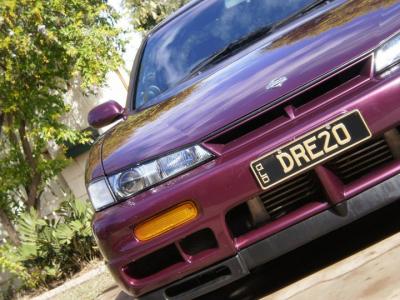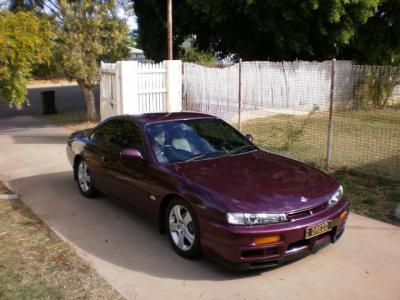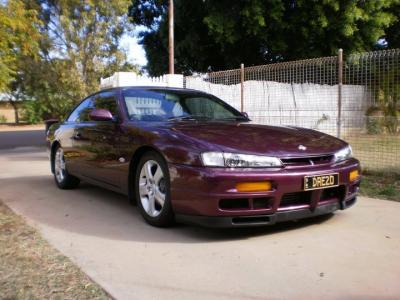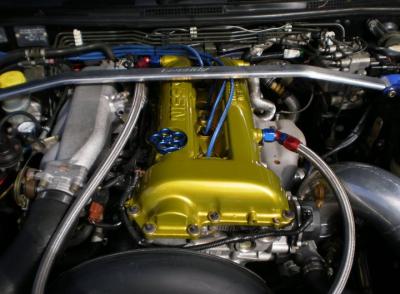 The car ran very well, we were quite impressed with it on the trip home, drove it for 1000k's flawlessly. The old man was a bit scared of the highboost setting lol.
The dyno sheet provided with the car said it had around 227kw atw, on somewhere around 20psi,
Specs of car:
Engine
:
Stock unopened s15 VCT sr20det
Other Goodies:
garrett 2876r .64 A/R and 4inch front housing
stock injectors 370cc
Malpassi fuel reg
Hybrid front Mount Intercooler
3inch zaust from turbo back
4inch pod filter on custom alloy air pipe
Microtech LT8 piggyback ecu
Relocated Bosch coilpacks
Bosch 984 fuel pump
Stock Nissan Intank pump
Alloy surge tank
Oil catch can
Custom alloy airbox
Turbosmart Eboost
Turbosmart v port Bov
Didn't have a licence for the first 3 months of owning this car so it pretty much just sat around and every now and then me and mates would take it out for a drive, on this one particular night, maybe 4 weeks after having it home, me and a mate went out for a cruise, and i said lets go out of town so i can have a drive, i hadnt driven it yet not even once. So anyways, i get into the drivers seat, get the seating position right, adjust the steering wheel, push the clutch in and put it into first gear, slowly let the clutch out and take off then decide i wanna rip skids so i clutch kick it, then snap 2nd, them BAM! blew 2nd gear lol.
So thats when i joined this very website and started looking for answers and options on what i can do to make it not happen again...
Then i found the Z32 gearbox thread nigel created, and after about a week a user from here got onto me, he'd just stripped out his whole z32 conversion out of his s14 so i snapped that up, put it in and it was a bit of a f**k to be honest at first, it was very noisy, rattly, the gearbox was tappin the floor, the shifter hole needed to be cut out for it to fit properly, had no speedo, the gearstick rattled its ass out, oh man it was a f**king mess.
So i started researching, found a little company called Alpha Omega down in sydney who'd basically JUST started doing the conversions, well, they weren't officially released yet but after a few emails i managed to get a short shift kit and a new shifter relocater from them, i already had a tail shaft and bellhousing adapter plate so i didnt end up getting the whole kit as much as i should of coz they are the ducks nutz.
Anyways, me and a mate dropped the box, put the new shifter and relocator on and WOW! what an incredible difference. So quiet, such nice short shifts too and no slop. Awesome. I also got one of their speedo correctors, so i had that wired in and away i went. All good.
pics:
how the knob sat after box was first installed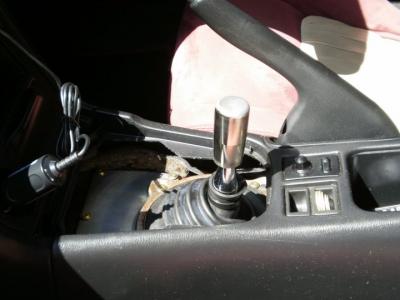 How it sat AFTER the alpha omega shit went in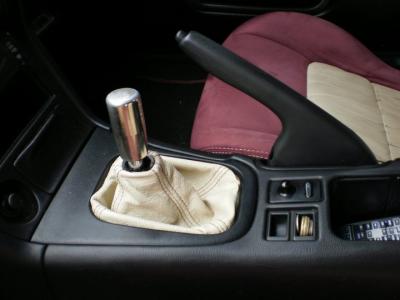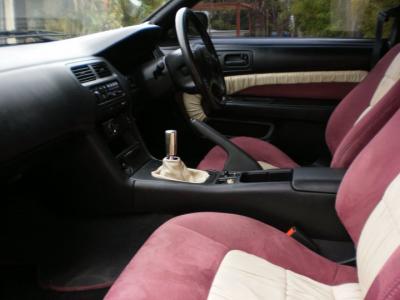 So a little amount of time went by and after starting to get comfy in the car and starting to throw it around a little bit i notice the diff was a little bit dangerous, sometimes you'd be hangin it out and all of a sudden it shoots off towards a gutter! The diff was pretty 2nd hand, so i hunted around for a diff for a week or so and found one on nengun for cheap, Nismo GT PRO 1.5 way lsd. So i bought that and bought new bearings and seals and redline diff oil and we pulled it apart and put it in.
Had a bit of a head f**k on our hands when we first pulled the diff out as the half shafts were different lengths and wouldnt go in the diff, so we took one of them down to my mates work and spun off about 30mm on the lathe... I don't recommend this, as it wasnt a real tight fit and going around corners slowly it felt like the whole wheel was moving side to side lol but it worked untill i could organise a new shaft that would fit. Just needed another stock nissan s14 short shaft.
pics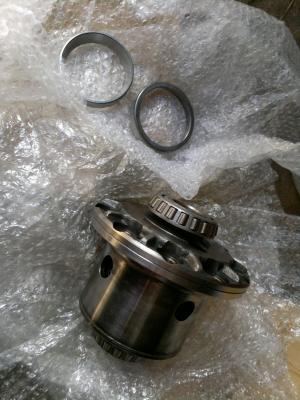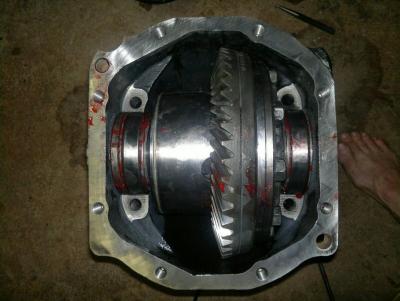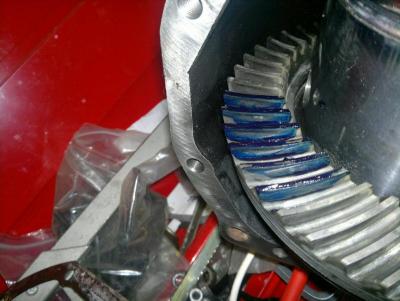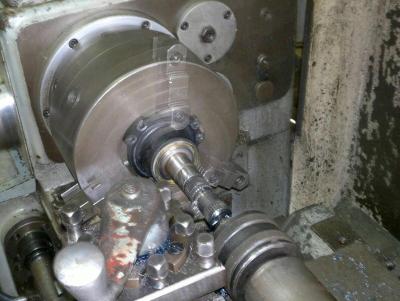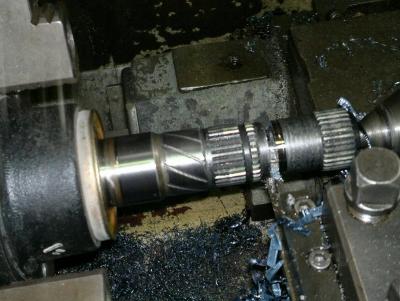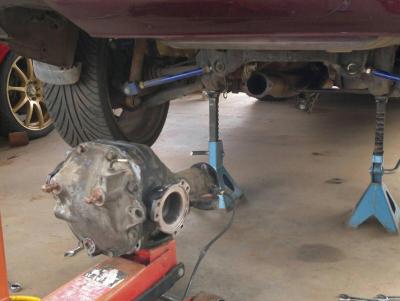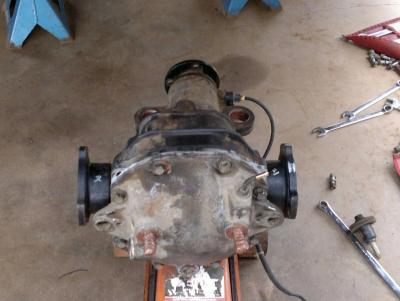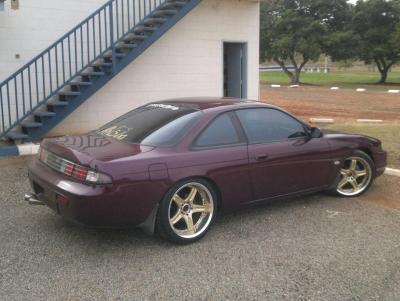 Edited by DRE20, 11 August 2015 - 01:20 PM.