hey guys,
i think the time has come for me to make a thread on my drift car..
Some people may already have seen this car or heard of it, some love the idea and some just completely hate it...
I get asked why i did it every time some1 new sees the car... my answer is why not?
I got the idea from my brother Tom (honda fanatic) and my tunner (Craig: PSR tunning)...
My brother had always driven hondas and i must admit now i used to give him heaps, NA gay shit rah rah rah they usual shit honda fans cop..
Till he bought his DC2 type R. it handled amazing and for a little 1.8L NA it went quite good. I thought that a stock CA18 turbo would get the doors blown off by this honda..
So i started to get interested in the Honda game.. My brother had done minor NA mods and made a happy 135kw @ the tires...
Un till he hit the power bug n decided to turbo charge it...
At first i couldnt cum to terms with a high compression engine lasting being turbo charged and what computer to use to run vtec etc etc etc... it was all a big puzzle.. But my brother being the person he is.. Research and chatting to the scarse honda tunners and builders here in VIC, he came to his own conclusion that it didnt need a rebuilt engine, or a decomp plate or any thing to do with opening the engine up...
I was down for it to be a hand grenade...
6months later it was boosted, made 240kw at the wheels on 7.5psi, on BP Ultimate. With a bone stock engine...
Drove it for 1.5years till some scum bag decided to take unauthorized possession of my brothers beast and not returning it.
It was stolen...
Never the less I drove it a few times as you do your brothers car, and was gob smacked with the way the power came on, the absolutely no lag, the power band range(3500-8500) and the all day everyday thrashing that it copped...
That was the decider for me, I had to have VTEC and boost (at the same time) in a rear wheel drive format and to be my new drift machine. After having SR20's in the past, the honda engine is in a whole new class...
I went out and found the cheapest cleanest s13 silvia I could find. It was ca na automatic. Such a steal with 11months rego.. Car cost me under 2500bux..
We (me and my brother) had chatted about the SR20VE head on a basic built bottom end. But I wanted high compression, I wanted a shit load of timing, I wanted as much RPM as possible, I wanted no lag but I wanted a massive turbo and external gate and I wanted it all on pump fuel... I wanted something that is some what not possible in many engines..
We sat down with my tuner (Craig) and we discussed the potential of the SR20VE, and we came to the conclusion it wasn't for me. High comp wasn't an option, lots of timing wasn't on the cards, and no lag was impossible... and then.....
S2000 was mentioned by a little bird sitting on the window sill..
We put it all together and that was the go, s2000 engine gearbox ecu and loom, and boost it... Awesome, seamed like work, but cant be too hard, till I priced some second hand s2000 engines, gboxes with ecu n looms... there was no way I was paying that much for something that may or may not work.. Couldn't justify the loss...
Back to the drawing board we went.
In the mean time I sat and dwelled on what I was going to do for an engine, RB, rotary 1zj, they all got thrown around, but nothing was what I really wanted.
We nearly gave up till Craig said lets try a K20 (DC5 integra) or K24 (Euro Accord). But these engines are front wheel drive engines???
We went to the drawing board and chased up people to make adaptor plates and engine mounts n gearbox mounts. Also the wiring was gonna be an issue…
Once I found some close friends to do them bits for me I went on a rage to find a K24 or a K20 and an s2000 gearbox…
It didn't take long I hade everything I needed sitting in my garage.
The build was extremely slow after that. I had to wait for my mates dad to have room at his house for me to take him the engine n gearbox to make the adaptor plate and custom drill the flywheel to suit the s2000 clutch and the spigot and etc etc…
Once that was done, after he had called me telling me it was impossible, and it wouldn't marry up at all and it was one of them things that just wasn't gonna work, I then took him the bear shell and it was mounting time.
I get a phone call a few days later with the bad news, (which I knew this wouldn't of went smoothly at all) the engine was to poke from the bonnet and the gearbox tunnel was to be chopped out…
So I took the car back home stripped the interior and took an angle grinder into my hands and went crazy.. cutting the top of the gearbox tunnel off and about 50mm up the firewall.
Car went back and engine was mounted…
At last the car was back in my garage and the wiring was started on…
I ripped out the heater and aircon and it wasn't going back in. I wanted the car to be rewired from headlights to tail lights, I wanted the fues box and relays on a plate were the aircon and heater box usually are…
I was being a pain aswell. I wanted my mirrors to work, my lights, wipers, interior lights I wanted every stock electrical thing in the car to be working. I was goin to be driving this car on the street. And belive me I do on the odd occasion, wish I could more often.
After many long nights months went past and the wiring was only getting started. It was becoming a nightmare, we couldn't get things to work together, the Nissan and the Honda just didn't want to mix. Frustrating times nearly made me ditch the project and sell it all…
My brother made me keep goin and said "lets finish this thing, if you dnt like it once its done will then sell it". Like f**k I was gonna sell it once it was done…
Wiring got done and engine was now turning over with the keys… wooohooo…
Time to sort out exhaust manifold, plenum, cooler, radiator, fuel setup etc..
The car went to see Mick at Head Tech were he made the exhaust manifold to house my GT3076R and my 60mm Tial gate. And a full 3inch exhaust, which was a pain in the ass because the hot side now was on the opposite side to a normal Nissan engine…
The plenum having an efficient runner setup was cut and shut to now face forwards not backwards. Thanks Mick, works of art…
Car came back home for me to finish off the rest.
Turbo was secured with water and oil lines in place and heat sleved, gate was V-banded into its place, exhaust bolted up. Plenum got bolted up, the custom cooler set up was put together by my brother and myself as well as the radiator and custom piping. Fuel rail went in and houses RC 1000cc injectors a Magnafuel fuel reg was in place, custom surge tank with Walbro in-tank pump and Bosch external pump.
Then I worked on the suspension. I threw in some Tien Super Drift coils, tune agent castor, camber and roll control centres. Godspeed rear toe arms. Hard race tie rods went in, brand new poly bushers all round, sub-frame risers.
R200 4.36-welded diff went in. The breaks were sourced out of an s15 as well as the 5stud conversion, with DBA discs and Bendix pads.
A 9point Cusco cage was thrown in for good measures, Supra Recaro seats and Alpine head deck, and the rest of the stock interior went back in to give it that cosy feeling.
The car was ready to be cranked and started, we got a Hondata ECU with a base turbo map with the injectors scaled in, to be able to start and drive it easy to run the fresh clutch in, on the street. Yes the car became my daily drive for about 2weeks to run the clutch in. Drove it to work and back every day…
The day came and it was ready for a tune… nerves were running high as I didn't really know what kinda boost we were looking at running and I was hoping I was going to make at least what my brother was making…
The car went on the dyno at Rev Zone and started getting its tune with part throttle and full load with a 50degree cam angle adjustment this all take precision and time. About an hour later a power run came on and I see the revs climbing to about 6000rpm, with all the noise and commotion the car made an easy 140kw, the catch was VTEC hadn't been engaged as yet…
Another about hour of tunning and with VTEC engaging at about 3300rpm and reving it to 6000rpm the car churned out 230-240kw on 12.5psi… I was bouncing off walls, we had at least another 2500rpm to rev this thing and it was making the power I wanted…
A bit more tunning happened and a bit more revving and the car started to make ridiculous numbers, both torque and KW… car was revved to 6800 and made 270kw and 450nm. Craig had an idea to try and take some torque out of the engine. That kind of torque on stock conrods was sure to throw a rod. Craig's words were "do you want to drive it home tonight or if you get a bit closer you can catch the rods when they fly out of the block." Before we went for drastic measures we tried one last power run, now to 7000rpm but he would flood the engine with fuel, make it soo rich that it wouldn't make any more power but loose power. The A/F ratio plummeted to nearly 9:0 at about 6500 and the car made another 10KW…
I was devastated, we had no choice but to reduce the boost =(
The boost went from 12.5psi to 8psi. which for me, I felt we were goin backwards… I love boost, but it wasn't on my side that day…
Car went on to make an easy, laid back 253Kw and 340nm at 8psi at 8500rpm…
I couldn't complain with that, the car was amazing, after being able to take it for a proper bash up and down the street, the car feel insane. I couldn't believe how well it went, how no lag it had. It was a dream…
The car had now gone onto doing a 12.3sec at 118mph in street/drift trim.
It has been to about 6/7 drift days, gets driven to car meets and shows and on weekends when time permits. The engine has never failed me, it has never broken a single thing... I couldn't of asked for any thing more. For the future I may try to squeeze 10psi out of her to up the torque and Kw and really push this engine to the limit…
Parts list:
Engine
:
K20A2 (02 DC5 Type R)
Engine Mods:
Internally completely stock
Induction
:
Garrett Gt3076r, Tial 60mm eternal gate.
Custom made stainless steam pipe exhaust manifold, HPC coated.
Drift Pod filter, custom intercooler and copper piping.
Custom made intake manifold, stock throttle body.
Fuel System:
Walbro 255l/h in-tank pump, custom surge 2L surge tank.
Bosch 921 external fuel pump, Ryco inline fuel filter.
MagnaFuel fuel pressure regulator, Hybrid Racing fuel rail.
RC 1000cc injectors. ProFlow fittings throughout.
ECU & Ignition:
Hondata K-Pro, battery in boot. Custom wiring through out.
Exhaust
:
Custom made 3inch turbo back. Single mid muffler.
Twin drift flutes.
DRIVETRAIN
Gearbox
:
Stock s2000 AP1
Clutch
:
Exedy cushion button (sprung centre).
Differential
:
CA18 turbo R200 locked. 4.36 gears.
Breaks
:
Front- s15 stock callipers, disks and pads.
Rear- s15 stock callipers, DBA disks, Bendix Ultimate pads.
Suspension
:
Tien Super Drift coilovers all round.
Tune Agent front caster rods and roll control centres.
Super Pro front inner control arm bushers.
Tune Agent rear camber arms. Godspeed Project rear kinked toe arms.
Super Pro front and rear sway-bar links and D-bushers.
Stock sway-bars.
WHEELS/TYRES:
Front- SSR formula mesh 16x9.5+8 with 215/45 Kumo KU36
Rear- Old skl Weds 17x9+13 with 215/45 Nankang NS-2
INTERIOR:
Recaro, Supra driver and passenger seats.
Safety 21 half cage (front half not installed yet).
Dash Matt, S2000 gauge cluster.
Personal steering wheel, DC5 type r gear knob.
Custom dash tray/table. Silvia floor matts
EXTERIOR:
SLR 5000 bonnet scoop.
B-Wave boot wing.
Nismo, aero side skirts.
Rolled front and rear guards.
Silvia mud flaps.
Sponsor stickers.
PERFORMANCE:
253kw @ the wheels, on 8psi, @ 8500rpm.
340NM @ 4000rpm
12.3sec 1/4 mile (street tyres)
Thanks for reading guys
Toli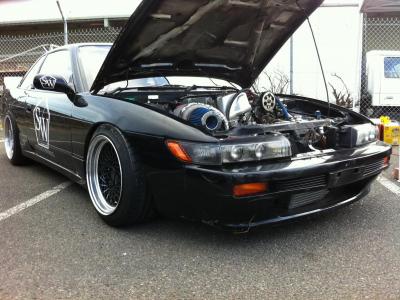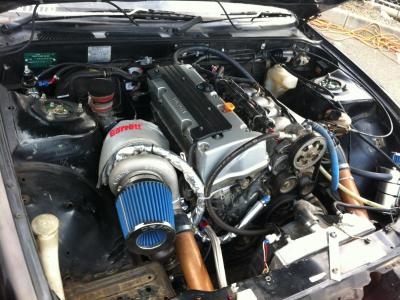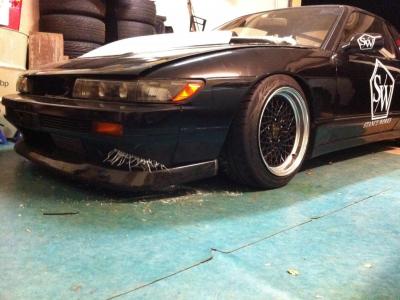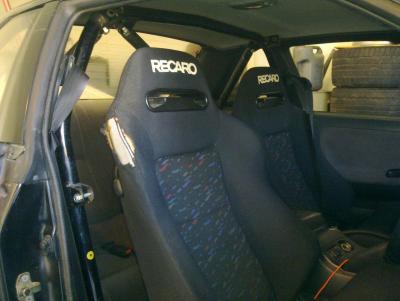 Edited by Toli Sarris, 16 April 2012 - 10:41 AM.